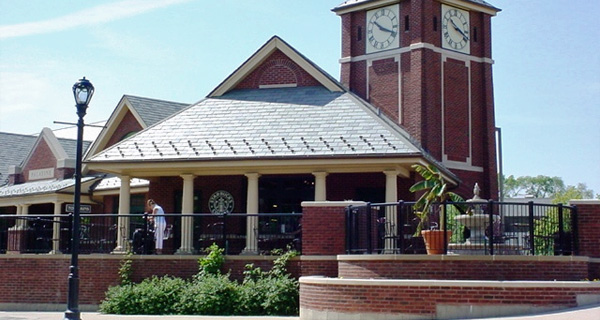 Palatine Geography
According to the United States Census Bureau, the village has a total area of 13.1 square miles, of which, 13.0 square miles of it is land and 0.1 square miles (0.3 km²) of it (0.99%) is water. Palatine's shape resembles that of the head of an axe. Palatine is in a wooded marshland where several streams rise around the village. Most of these streams meet up with the Salt Creek which rises at Wilke Marsh on the village's east side. The most notable exception is the northeast side, where its streams lie in the Buffalo Creek watershed. A small part of the east and southeast sides lies in the McDonald Creek watershed. As a consequence, floods occur very frequently in Palatine.
Early History of Palatine
George Ela was also one of the first of a wave of pioneers to migrate to northern Illinois following the Black Hawk War. A road which passes through the western edge of Palatine is called Ela in his honor. The Village of Palatine was founded in 1866. It was built around a station on the new Chicago and North Western Railway. Joel Wood surveyed and laid out the village, earning him the title of Palatine's founder. One of Palatine's original downtown streets is named after Wood. A short line railroad, the Palatine, Lake Zurich and Wauconda Railroad, was built in 1911, and began full passenger service to Wauconda, Illinois in 1912. The line was closed in 1924 after a series of financial misfortunes and the improvement of roads in the area. The PLZ&W provided transportation to Dr. Wilson's Deer Grove Park, just north of Dundee Road in Palatine.
Education in Palatine
Palatine is part of Community Consolidated School District 15 (CCSD15) for public elementary schools and Township High School District 211 (D211) for public high schools. Both the school districts' main offices are located in Palatine, and have both won numerous awards. In 2003, CCSD15 was awarded the Malcolm Baldrige National Quality Award by then-President, George W. Bush; few school districts in the nation have been awarded since the awards began in 1988. The village is home to two high schools, Palatine High School on the northeast side and William Fremd High School on the southwest side, and a community college, William Rainey Harper College. Both high schools and the college, as well as the public library, have received high national honors. There are two public junior high schools in Palatine, Walter R. Sundling Junior High, and Winston Campus–Junior High. Some students in Palatine attend Plum Grove Junior High in Rolling Meadows, outside of Palatine's limits. All information about Palatine courtesy of
Wikipedia
.