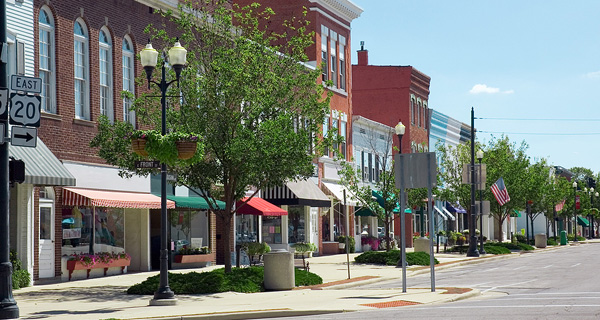 About the Community of Barrington
Barrington is a suburban village in Cook County, Illinois and Lake County, Illinois. The population was 10,327 at the 2010 census. Located approximately 32 miles northwest of Chicago, the area features wetlands, forest preserves, parks and horse trails in a country-suburban setting. The Barrington area ZIP code, 60010, is the seventh wealthiest ZIP code in the country among areas with a population of 20,000 or more. Barrington is part of the Chicago metropolitan area and serves as the hub of activity for the surrounding 90-square-mile region which consists of 7 independent villages including Barrington Hills, Lake Barrington, Port Barrington, North Barrington, South Barrington, and Tower Lakes, as well as small portions of Carpentersville, Deer Park, Hoffman Estates, and Inverness. The village's motto is "a great place to live, work, and play!"
Background Information
Much of the history of Barrington since its settlement parallels the development of railroad lines from Chicago's growing port facilities. The area's rich soil and ample water supply naturally attracted a growing number of farming families throughout the 1830s. In 1854, the Chicago, St. Paul & Fond du Lac Railroad (now known as the Union Pacific/Northwest Line), led by William Butler Ogden, extended the train line to the northwest corner of Cook County and built a station named Deer Grove.
Parks and Recreation in Barrington
The Barrington area features numerous parks and nature preserves. The Arbor Day Foundation has recognized Barrington as a Tree City USA every year since 1986, in part due to the village's Tree Preservation and Management Ordinance governing the proper care for trees within the area. The Barrington Park District administers several Barrington area parks including Citizens Park, Langendorf Park, Miller Park, and Ron Beese Park. Langendorf Park features tennis courts, playgrounds, outdoor and indoor basketball courts, baseball fields, meeting/activity rooms, and "Aqualusion," a water park that includes a zero-depth pool, lap pool, and diving area.
Banking and Industry in Barrington
Although relatively small in population, Barrington features seven separate banking institutions, some with multiple branches. Bank of America, the Barrington Bank & Trust Company, Chase, Fifth Third Bank, Harris Bank, the Northern Trust Company and TCF Bank all have locations within the village. The Barrington Area Chamber of Commerce was founded in 1969 to support local businesses. The organization lists over 750 members; its stated function is "serving as an agent of change, taking the lead in providing leadership for the benefit of the business community by promoting economic opportunities, advocating the interests of business, providing Members with education and resources, and encouraging mutual support." All information about Barrington courtesy of
Wikipedia
.