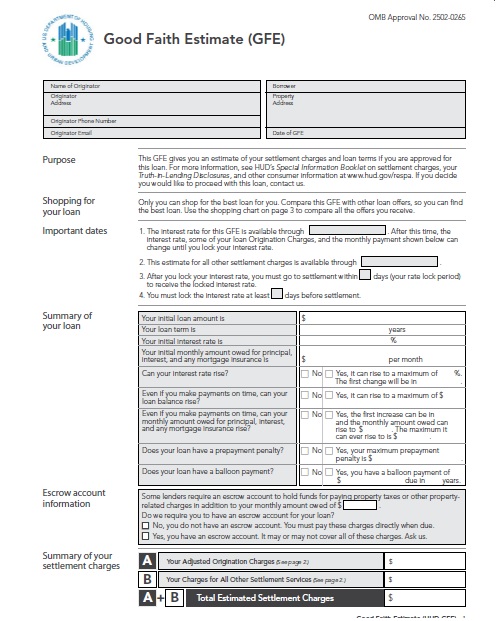 A good faith estimate is often referred to as a GFE. The GFE is provided by the mortgage lender or broker to the customer and is required by the Real Estate Settlement Procedures Act, also known as RESPA. It is an estimate of the loan fees or "closing costs" for the customer's mortgage.
In order for the estimate to qualify as a GFE it must have an itemized list of fees which will be in one of six general categories:
• loan fees
• fees to be paid in advance
• reserves
• title charges
• government charges (local and state)
• (so-called) additional charges - these can include inspections, title insurance, taxes, etc. other fees that don't fall into the categories above.
The lender must provide the borrower with the GFE within three days, if they are going to approve the loan.
It is important to remember that the GFE is an "estimate." While the banks fees can't change (after all, they should know how much they plan to charge), the fees of third party fees, like attorneys, pest inspectors and home inspectors, can vary by up to 10%.
If the lender denies your application, they do not have to provide you with a GFE but they do have to tell you why your application was denied within 30 days.
When you receive the GFE that does not mean that you must take the loan and it does not mean that the lender must make the loan. It is simply there to provide you with the basic information so you can easily compare offers with confidence.
Each item on the items on the GFE are given a code from a HUD (Department of Housing and Urban Development) list. This allows the lender and the borrower to be able to neatly categorize the charges, so that everyone knows what the charge is for.
Here are some sample codes:
801 – Loan Origination Fee
808 – Mortgage Broker Fee
902 – Mortgage Insurance Premium
1003 – School Tax months @ $ per month
1101 – Closing or Escrow Fee
1106 – Notary Fees
1201 – Recording Fees
1302 – Pest Inspection
After receiving a GFE from a lender, the borrower should go over each charge and make sure that everything makes sense.
Because the codes standardized the fees, they are easy to compare side-by-side between mortgage lenders. For example, if there is not closing fee (1101) from one lender, but another is charging $500, it might sway the decision on which company to choose.
This also allows borrowers to find hidden fees. One example would be for the same lender that isn't charging a closing fee, but has a $1700 pest inspection. If the other lenders are only asking for $250 for the pest inspection, you have probably found your closing costs. Situations like this are rare, but it should be clear that there are a lot of unscrupulous mortgage lenders in the world. They have to follow the letter of law and supply you with a GFE, but will look for ways to hide fees in places you might not expect them.
The most important thing to take away from this little introduction is that: a) you should expect to receive a GFE, b) it is designed to make it easy for you to understand, and c) you can and should use the GFEs that you receive to compare loans to each and the fees to what is reasonable.
If you are not sure what the fees are and which are reasonable, you should retain an attorney and have her or him explain those fees to you in detail. Some of the fees will need to be paid at once at closing, the others might be something that you pay for 20 to 30 years. Go over the good faith estimate slowly and in great detail.